Pyramus and Thisbe were neighbors and were in love, but their parents didn't permit them to see each other anymore. There was a tiny fissure on the wall that connected their houses; they used it to tell each other everything.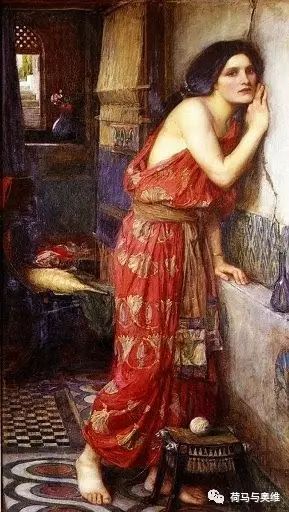 (painting info: "Thisbe" (1909), by John William Waterhouse)
Then one day, Pyramus proposed that they escaped the town together. He said, at the fissue, "We can't do this anymore! You know the white mulberry tree by the stream? Let's meet there and leave the town."
It was basically disobeying their parents' order, but the young lovers didn't care. To them, love was everything.
Passing the whole day is like passing a whole year, but finally the Sun had set. Thisbe, veiled and cloaked, slipped out from the door of her house and ran toward the direction of the mulberry tree. Just when she was about to settle down, a lion appeared; apparently it wanted to drink water at the stream.
Thisbe was afraid; nevertheless, she ran soundlessly into a cave nearby. But she dropped her cloak along the way. After a while, the lion came; it saw the cloack, and it teared the cloak with its bloody teeth. When it didn't find food, it left.
Pyramus arrived a while later, only to find the torn, bloody cloak. Tears streamed down his cheeks. He blamed himself for proposing the escape; it was because of him that Thisbe died. Thus, he took out his sword and cried, "Let every lion on this mountain eat me until I'm guiltiless!"
He walked toward the white mulberry tree and said, "Accept my blood." And Pyramus inserted the sword into his chest. His blood seeped into the soil and was absorbed by the tree, and in turn it made the white berries purple.
At this moment, Thisbe walked out from the cave. She saw the tree from faraway, but she didn't understand why the fruits had changed color until she saw Pyramus and his sword. In great sorrow, Thisbe sobbed, "Pyramus, please wake up. I'm Thisbe, Pyramus."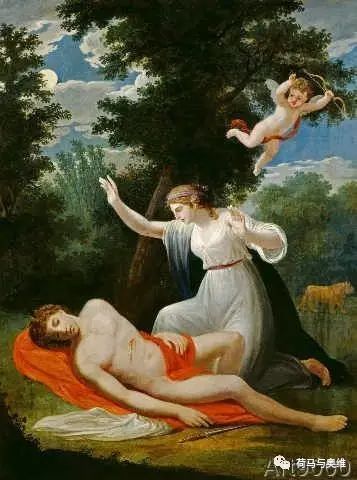 (painting info: "Pyramus and Thisbe" (1795), by Andreas Nesselthaler)
At Thisbe's name, Pyramus opened his eyes one last time to look at his beloved, and he closed his eyes forever.
Thisbe held up Pyramus's sword, saying, "Death has taken you away from me, but he shall not separate us, because we shall lie in one tomb. Dear tree, your branches and trunk are filled with the blood of one of us, but now you will receive the blood of the second one. We will be remembered this way."
When she had finished, Thisbe fell onto the sword tip. The gods heard her prayer. The parents of both Pyramus and Thisbe heard it too and mixed the ashes of Pyramus and Thisbe. The fruits of the mulberry tree turned to rose color, in order to symbolize the dead lovers.
Something we learn from this story?—that's why the mulberry fruits we see these days are in a rosy color.
---
via Disobey